︎︎︎
Preppers

The Preppers series is about doomsday preppers — the global subculture of people who prepare for the collapse of society. Consisting of wall based works, sculptural installations, video and website, this body of work investigates the psychology of the prepper phenomenon, drawing on consumer culture, the internet and personal experience.
Preppers collect specialised gear, practice survival skills, and hoard violent knowledge. They gather in communities and clubs as well as online. Prepping is a hobby but also a world-view, with its own distinct aesthetics, vocabulary, and consumer products. This series considers the prepper phenomenon as an expression of wider cultural anxieties. Today catastrophe looms on many fronts — whether environmental collapse, disruptive technology, rising political nativism, or another financial crash. While established power systems fail to address these great challenges, preppers are hard at work planning for the worst. In this moment of great uncertainty, they understand that chaos also represents an opportunity.
The Portraits works combines custom camouflage patterns with tactical materials, and Compound creates a fortified space restricting access to either side of the cage wall. Collaborative works like E-waste Barricade present the street barricade as a symbol of radical politics and a major reordering of priorities and values. The preppers.gallery website takes the content back online as the world deals with a global pandemic.
––
︎︎︎ PREPPERS Website

––
Exhibition History
2017, Preppers, Polizia, Fremantle
2017, SHTF, Firstdraft, Sydney
2017, John Stringer Prize, Kerry Stokes Art Collection, Perth
2018, WROL, BUS Projects, Melbourne
2018, Portraits, Moore Contemporary, Perth
2018, Redland Art Prize, National Art School Gallery Sydney
2019, The Real and the Imagined, Moore Contemporary at Spring 1883, Sydney
2019, Winter II, Moore Contemporary, Perth
2019, PREPPERS, Fremantle Arts Centre, Perth
2020, PREPPERS (Tour), Geraldton Regional Art Gallery, Katanning Art Gallery, Museum of the Goldfields
2021, PREPPERS (Tour), Albany Town Hall
2022, In Plain Sight, Moore Contemporary at Sydney Contemporary, Sydney
︎︎︎


Portraits

2017-2019

Inspired by nature, tactical camouflage patterns were originally developed by artists in the early 20th Century to help disguise military personal and assets in different environments. Although specific patterns and colour schemes date particular conflicts or forces throughout recent history, camouflage designs can easily be adopted, leased or stolen by any military group or individual with any political motive.

Appropriating the aesthetics and materials of luxury survival equipment and military tech, the Portraits series in made up of different custom camouflage designs. Some reinterpret existing and historical patterns, others are made local and introduced fauna found in Western Australia. Presented in carbon fibre, black mirror and gun-blued steel, these menacing artworks emphasise the hostility inherent in our relationship with nature and question the attraction to prepping. Void of colour, the camouflage is ready to be adapted and deployed –– for who, why, when, where and what for, we don't know.






︎︎︎


Compound
2019

Hoarding personal munitions and food in cages or stores –– and determining who has access to them in times of crisis –– is a dominant thread throughout prepper ideology. For radical preppers this resource (usually at home or at a predetermined bug-out location) is key to their defence and survival against a myriad of possible threats. The last stand.

Reminiscent of these fortified rooms, Compound is a large freestanding sculptural installation made of steel mesh with motion activated flood lights that stun the viewer on their approach. In Australia, a fortified compound prompts alternative readings linked to border security, detainment and fear. Equally dark and cold, this symbol of protection and keeping people out is flipped on its head – a tool to control and isolate.

In a COVID affected Australia we see national and state borders being closed to nearly everyone. There are flurries of panic buying as normies (non-preppers) clear shelves, scavenge supplies and prepare. Abroad, modular fences have been adopted to protect democratic and government institutions in times of political unrest. Ambiguous yet ominous, Compound calls into question the intention behind our action and reaction in times of crisis.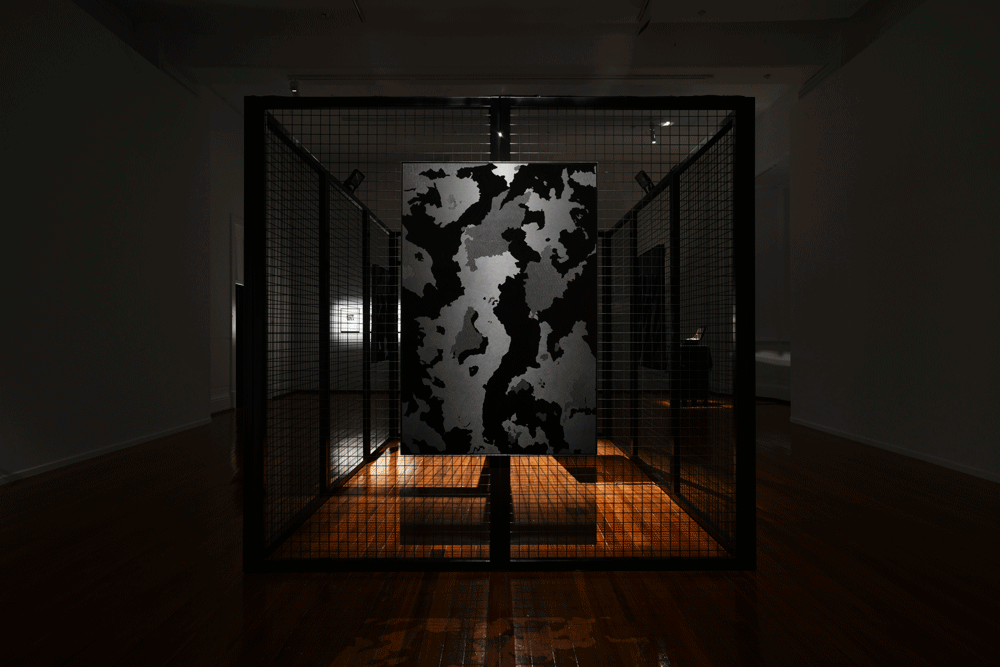 © Dan McCabe, 2023